NBC's streaming service Peacock, having acquired The Office, is limiting access to the hit mockumentary through differently-priced plans.
The Office has moved to the new NBC-owned streaming platform Peacock, which is now offering membership pricing based entirely on how much of the series one is able to access.
The long-time favorite comedy has been taken off Netflix and moved to another up-and-coming streaming service. Collider reported the distribution of the series, which began Jan. 1, 2021, advertises that fans can now watch The Office for free…but only the first two seasons. Access to more episodes and bonus content is explicitly divided into gradually increasing price packages.
Related: Peacock Adds Saved by the Bell Channel Ahead of Revival Debut
Continue scrolling to keep reading
Click the button below to start this article in quick view.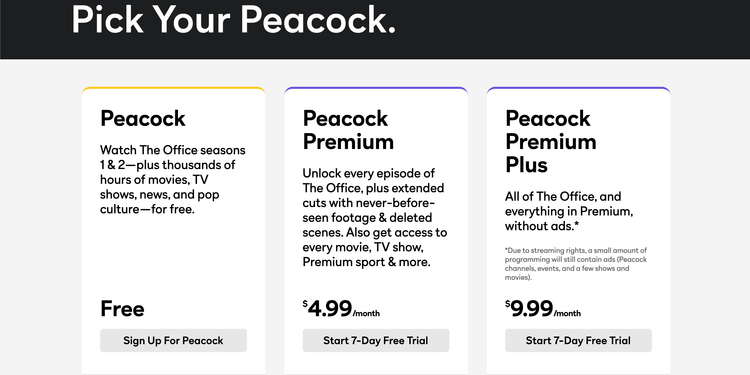 Each tier of Peacock's plans specifies access to The Office along with other content and ad-free viewing. It appears that Peacock understands the gem it now holds, laying out the pricing tiers plainly around the comedy series. Ranging from Free, to Premium, to Premium Plus, the move to relegate portions of one series to different price points has drawn controversy. While other streaming services also promote their exclusive content, they don't offer part of a series for free and then require payment for the viewer to continue with it.
Related: Netflix's Anime Audience More Than Doubled in 2020
More studios are following in the footsteps of Netflix by creating their own competing streaming services, and new subscribers are critical in order to compete with the already well-established streamers. Peacock may be hoping to use one of Netflix's most-streamed shows to entice fans over to its channel, and is now in a very good position to do so. Since NBC was the original owner of the mockumentary, the acquisition of The Office by NBC consolidates ownership of all The Office content, including never-before-seen deleted scenes and bonus footage, which will be accessible in the Premium and Premium Plus packages.
Despite Peacock taking this unusual route, the showrunners are hopeful that the move will be a positive for fans of The Office. Discussing what audiences can expect from the switch to NBC's new service, The Office creator Greg Daniels said, "I went back into the dailies with the original editors of the show and found some never-before-seen footage that was cut for time but is still fun to see. You can choose to watch the classic version of the show, or the superfan extended cuts with this new footage and other deleted scenes that we are gradually rolling out, starting with Season 3."
Keep Reading: Peacock's 2021 Preview Includes Punky Brewster, Bel-Air and More
Source: Collider
Generations: Every Legendary Hero on DC's New Time-Traveling Team
About The Author